A full year has passed and not only did we go to Cuba where we conceived and realized our first goal : A community center, and guest house in Nuevo Mundo, we also conceived and gave birth to a baby boy who was born December 25th, 2012: Hence the year absence from this blog! Our baby is growing inches daily, and we can redirect (some of) our energies back to the development of Ecolonia Nuevo Mundo. Soon, Inti, our baby will be ready to accompany his parents on our next trip to the island which will likely happen this winter.
In 6 weeks time, we managed to construct a community building, and bathroom on Poto's land, as a base for ENM. We also did a lot of work on the land, where Poto, in her 80's, lives with one or two rotating members of her family. We rebuilt the fence around her land, planted cactus plants next to the fence to keep the animals in or out, accordingly. We leveled the dirt area around her house to prepare for summer flooding. We also did some work the thatch roofs where the animals reside....Speaking of animals, we aquired a mare, who has since given birth to a colt, a nanny goat and her baby, and a few sheep.
After Felix and I arrived in January we were joined by Oscar de la Torre, a founding member of Giganteria Ambulante, Renee Kerson, a permaculture engineer, construction consultant, and good friend, and Olivia Garriga an artist, and close friend who surprised us by hitchhiking across the island and showing up in Pilon one day out of the blue! Our work and presence attracted a number of residents from Corcobao, the nearest colony, who came every day until we left, to work on the construction and cob projects, keep us company, and play us guitar ballands during our lunch breaks. We had a great crew and got a lot done in a very short amount of time. We used recycled materials to build the palm-board house, as the national tree is becoming endangered from over-use, and is no longer a viable resource, though it is extremely durable and flexible- which makes it well suited to the extreme tropical weather. For this reason we found a decrepit 50 year-old house in a neighboring colony that was being sold at a reasonable price, and piece by piece, we took it apart (in under two hours- it was like watching a time-lapse video), and trucked all the materials, including the bent nails, back to Nuevo Mundo, where we used every last piece to re-construct our building.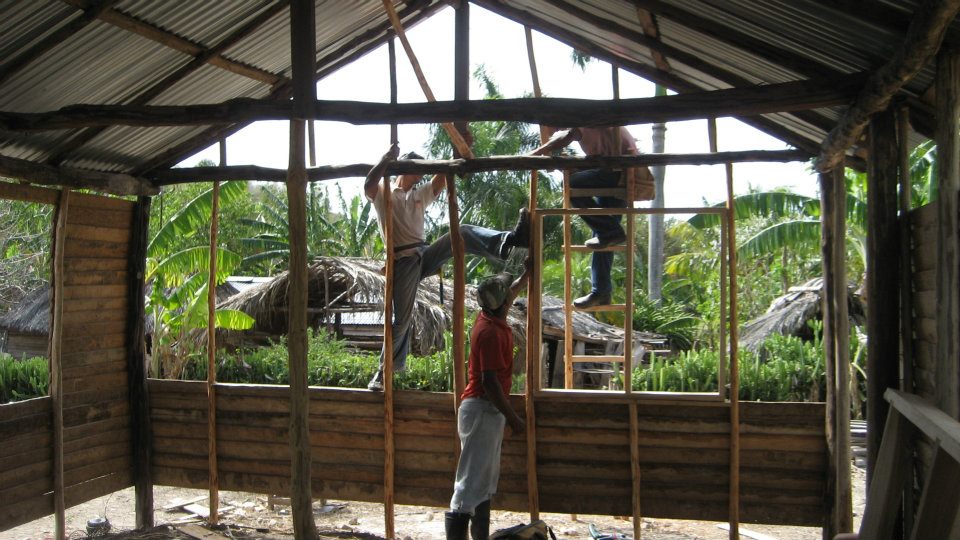 [Putting in the windows of the guest house, Nuevo Mundo]
We also experimented with cob and built an adjacent open air bathing-room attached to the building for our refreshing sun-warmed bucket baths. We were pleased to find that there is a boundless supply of clay-rich soil as well as cal, and manure with which to build, though we felt that the cob was very time-consuming, and really requires a lot of people to get anything done efficiently. Because of the time constraints and fluctuating number of helping hands, we have been researching super-adobe earth-bag construction which is being used all over the world to efficiently build extremely cheap, stable, seismically sound, hurricane worthy constructions from small houses to larger-scale buildings in communities with limited economic and/or material resources. We have located a factory where the polypropylene bags are made in Cuba, not far from Pilon, and plan on experimenting with this method for further construction projects in the future!
[Some of our crew posing in the new bathroom]
The other big happening of this past year, was a very successful visit to the land by the theater group Gigantaria Ambulante. Fifteen members of the collective were provided with transportation by the Cuban Government, in order to travel the day's journey from Havana to the Pilon colonies, where they installed themselves for 2 weeks in our newly constructed building in Nuevo Mundo. They brought with them, a Ceiba sapling (which is considered sacred in Cuba) to plant as a blessing for the project and the land, and a few very needed water tanks, as well as their costumes, stilts, and of course, instruments. Over the course of those two weeks, they held five separate performances for the children and residents of the various colonies, all of which were met with much enthusiasm and numerous requests for their prompt return. (We've also posted some photos from their trip on the website).
[Gigantes with a captive audience, Corcobao]
Our biggest goal this year upon our return, has been to investigate how to procure funding to continue the project and we are currently in the process of connecting with Rotary Club International, which has been approved for projects in Cuba, to create a club in Nuevo Mundo through which we could realize larger scale ventures that would so benefit the community such as a wind/solar powered water turbine, and other important infrastructural and economic projects. We met with the local delegate Umberto on a number of occasions as well as the local CDR (Comite de Defensa de la Revolucion), to discuss our project and goals, and they are in the process of undertaking many of the same plans within the community.
[Olivia, Delvis, Felix, Lidia, Poto, and Nina, Nuevo Mundo]